CUSTOM DIGITALLY PRINTED TEXTILES, FLAGS, DISPLAYS, APPAREL, MATS, FINE & CANVAS ART PRINTS
DigitalDécor specializes in high quality sublimation printing textiles, suitable for products, advertising or promotion. Our processes are waterless with minimal waste and are environmentally friendly and sustainable.
Hanging Banners

Hanging Banners are a powerful and eye-catching application for many different indoor uses particularly for exhibitions, event and tradeshows, POP displays and retail environments.
Having a beautiful, rich, vibrant high resolution printed graphic of your products or services hanging above your stand or counter in any environment will drag the customers in.
Hanging Fabric banners are a stylish, classy and superior alternative to PVC, paper, corflute and cardboard banners.
Fabrics; we have several fabric options.
We have both matte and satin finish fabrics both of which print beautifully with rich vibrant colours.
Blockout fabric which can have a different image on both sides
Also sheer voile fabric which is almost transparent.
We have three options for rails to suspend the banners
Wooden Dowels
These are cut to the correct length with a screw in eyelet at each end to attach to the cord. A sleeve is sewn at the top and bottom of the banner, to slip the dowel through. Only good for banners up to 1500mm wide.
Aluminium Tubes
Like the wooden dowels except they are stronger and can be used on much wider banners, up to 2500 mm wide.
Banner Rails
This suspension banner rail in aluminium provides classy and cost effective solutions for displaying your graphics. They hinge open so grip the top and bottom of the banner. They come in set lengths, 600mm, 850mm, 1000mm, 1200mm and 1500mm.
Hanging Banners at the Junior World Cup NZ 2014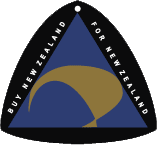 Get a quote
Click here
Proudly made in New Zealand