CUSTOM DIGITALLY PRINTED TEXTILES, FLAGS, DISPLAYS, APPAREL, MATS, FINE & CANVAS ART PRINTS
DigitalDécor specializes in high quality sublimation printing textiles, suitable for products, advertising or promotion. Our processes are waterless with minimal waste and are environmentally friendly and sustainable.
You see street or lamp post flags everyday, in every town and city throughout New Zealand. They brighten the city streets, but are also a great way to promote events, your organisation, or for seasonal greetings. The use of lamp posts are also free, so you will only have to purchase the flags.
Contact your local council for information.
They are a very economical cost effective way to get your message out there!
Generally Street Flags are 1800x900mm, but we can also supply 2700x1350mm and 4500x1500mm flags or any custom size. We use a tough well proven polyknit fabric, with hot sealed edges to increase life. We also have several FLAG SHAPES here, for windy and exposed sites. Made in New Zealand for New Zealand conditions. We also have a series of SEASONAL FLAGS, which you can change text and background colour to suit and also CHRISTMAS FLAGS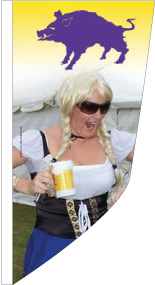 These are the 4 shapes we make. For windy sites choose either Curved 1 or Curved 2, but for extremely windy sites choose Curved 4.
These shapes have been developed so they with stand high winds, plus they don't hit, rub or wrap around the lamp post. This can be a major cause of the flag deteriorating quickly.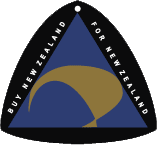 Get a quote
Click here
Proudly made in New Zealand