CUSTOM DIGITALLY PRINTED TEXTILES, FLAGS, DISPLAYS, APPAREL, MATS, FINE & CANVAS ART PRINTS
CUSTOM DIGITALLY PRINTED TEXTILES, FLAGS, DISPLAYS, APPAREL, MATS, FINE & CANVAS ART, VINYL & PVC
DigitalDécor specializes in high quality sublimation printing textiles, suitable for products, advertising or promotion. Our processes are waterless with minimal waste and are environmentally friendly and sustainable.
At DigitalDécor we specialize in sublimation printing fabrics and textiles. Our high quality printed fabrics can be used for marketing and promotion of your company, your team, your city, charity, in fact any organisation.
What is the normal life of a flag?
There are a lot of different variables which affect how long a flag may last. The expected life will vary depending on the type of flag. Also the longer a flag is exposed to UV light the more quickly the fabric will degrade and fail.
For instance a World flag on a conventional flag pole will
generally last for 6 to 9 months in Auckland. But in Wellington
they have been known to last 3 months. Coastal or windy sites are very hard on a flag when hung out 24 hours per day.
In sheltered areas a flag may survive 2 years. A flag made from bunting will out last a polyknit flag.
Lamp post flags, because they are attached at the top and one side, and the pole cannot rotate in the wind, are greatly
affected in high wind areas. We offer various shapes to aid the life of Lamp post flags. If a flag rubs against fitting on a pole or against a building for instance it will be damaged quickly. These flags are heat sealed on the edges which extends its life.
Teardrop or feather flags will last much longer, particularly if brought in at night and not used in extreme weather conditions. You could expect the flag to last 2 years. The fabric we use in blockout flags is not treated for UV so flags will fade and deteriorate more quickly.
Because we are Wellington based all our flags are made for "Wellington Conditions", and are all printed and manufactured here in New Zealand!
We have been manufacturers for over 25 years. We build our flags from the best materials to last!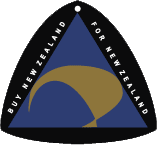 Get a quote
Click here
Proudly made in New Zealand