CUSTOM DIGITALLY PRINTED TEXTILES, FLAGS, DISPLAYS, APPAREL, MATS, FINE & CANVAS ART PRINTS
DigitalDécor specializes in high quality sublimation printing textiles, suitable for products, advertising or promotion. Our processes are waterless with minimal waste and are environmentally friendly and sustainable.
January 2015
After a good break and lots of fine weather over Christmas we have all come back refreshed to see what the new year would bring. I was surpised to be contacted by the Cricket World Cup to wrap the columns on the railway station. Everybody was impressed what we had done with the Christmas decorations, they want to do it again. The idea was to design six of the columns using the CWC background design with wickets on the front of them.





Our team got the design work done, approved and printed, and installed in a week. Each column has 90 square metres of printed fabric, done in two strips from our 2500mm wide printer, which have to be sewn together, so it big heavy a job for our machinists. We learnt a lot from the first install before Christmas, so it was much more straight forward and with no wind it went up a breeze.





The finished job!

All we now is for the Black Caps to perform well and win the Cricket World Cup. Good luck boys!


December 2014
After a year which was challenging at times and disrupted by general elections we are all looking forward to the Christmas break. The upside was after the elections things got back to normal.
I would like to thank all our customers and my staff for all their effort this year

It has been a busy year at DigitalDecor, when did a lot of client work including lots of interesting projects during the year.

I was contacted wanting to know if we would be interested in wrapping the columns on the Wellington Railway Station.

Always eager for a challenge we checked the site and came up with a solution which included about 720sq metres of printed fabric. So late in November, the day was set for the installation, with a practice run in the morning and the full install that night. The practice went well, but that night we suddenly realised there was a bit of a hitch, as the top of the columns were smaller than expected. A bit of jiggery pokery and all was solved, but this involved me being in the cherry picker to attach the wraps to the top of the columns. By 4 am we had to give it away as it got too windy and was too dangerous. So we were back the next night to finish the job.

All the while we had Stephen Patience doing a time lapse of the install. All went well and below is a link to the video.

https://www.youtube.com/watch?v=QMgJB63JE7A

We also printed and made all the Wellington City Council Christmas Flags seen in the video, on the poles in front of the railway Station

August 2014
I was contacted by Chris Field from Field Signs in Auckland, in regards to several U-FRAME-IT panels for an Australian Client. Chris was going to illuminate the panels, plus they needed to fit into a maximum of 1800 long packaging. The panels were all 2400mm high so had to be made using our U-FRAME-IT MATRIX SYSTEM.




Picture above shows the U-FRAME-IT MATRIX SYSTEM set up and illuminated prior to packing up and shipping.
January 2014


The Wellington Sevens will be bombarded with more than 100 "streakers", although most, if not all, will be fully clothed. Last year 90 mates made up a squad of Adam and Eves, complete with fig leaves. The nearly-nude theme will continue this year, with the group dressing as "censored streakers". Sam Newble approached DigitaDecor to print pixelated fabric for his group.
They have bought hundreds of metres of flesh coloured fabric, and there will be a few late nights sewing on "pixelated patches" in strategic places. Sam supplied us the digital file and we printed it onto fabric. The fabric was then attached to a backing board.
December 2013
With Christmas upon us I can only reflect on an incredibly busy year. The move is finished at last and now it is a case of getting everything in its right place.
It has been a tough year, and we can only look forward to improving financial conditions. The pundits and politicians have been expounding the growing economy, but we have only seen a trickle of it on Wellington.
Thank you and Merry Christmas to all our clients and also my staff
Archive
October 2013
We have moved to 4/24 Goodshed Road, Upper Hutt
Having been in the previous building for close to 25 years, the idea of moving was one of trepidation.
Once we got our heads around the move, it was a lot of planning and hard work.
​

We are here now, in a much bigger building. Its great having a lot more usable space, good access, a yard and plenty of parking space. It is going to take several months to get everything as we want it but we are capable of full production. Extra space will allow us to grow and look at updating some of our equipment.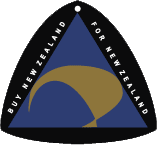 Get a quote
Click here
Proudly made in New Zealand