CUSTOM DIGITALLY PRINTED TEXTILES, FLAGS, DISPLAYS, APPAREL, MATS, FINE & CANVAS ART PRINTS
DigitalDécor specializes in high quality sublimation printing textiles, suitable for products, advertising or promotion. Our processes are waterless with minimal waste and are environmentally friendly and sustainable.
PVC banners are a cheap alternative for a large banner. You often see this type of banner on billboards. PVC banner is a strong heavy material which requires a very strong permanent structure on which you can attach it to. We can also make cuts in the PVC to let the wind through.
There is evidence that PVC can be a hazard to health, and are generally banned through out Europe. PVC Banners cannot be recycled so there is the question about how ling they take to break down in landfills.
We tend to discourage people from getting a PVC Banner, as we think fabric banners are much more desirable. But there are still some circumstances where a PVC banner is the most economical choice.
We can print PVC Banners to 1600mm wide to any length.
We can hem and eyelet you banner as required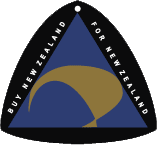 Get a quote
Click here
Proudly made in New Zealand